Justice Graham Hiley RFD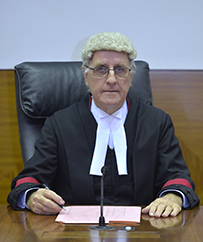 Graham Hiley was appointed as a Justice of the Supreme Court of the Northern Territory in March 2013.
At the time of his appointment he was a member of the Northern Territory Bar Association and the Bar Association of Queensland. He had practised as a barrister since 1978.
He grew up and lived in Sydney until 1976 when he moved to Darwin with his wife. In 1994 they moved to Brisbane with their four children. Justice Hiley and his wife returned to live in Darwin in 2012.
Justice Hiley graduated with a Bachelor of Arts in 1969 and a Bachelor of Laws in 1972 at Sydney University. He was admitted as a solicitor in New South Wales in 1972. He underwent National Service in 1972 - 1973 and became a Legal Officer in the Army. He practised as a solicitor in Sydney until 1975, then in Darwin in 1976 – 1977. Justice Hiley was appointed Queen's Counsel in the Northern Territory in 1987 and in Victoria and Queensland in 1993.
Justice Hiley joined the fledgling Northern Territory independent bar in 1978 and was a founding member of the Northern Territory Bar Association in 1981. He held various offices within the Northern Territory Law Society including as its President in 1987 – 1988, and also within the Northern Territory Bar Association including as its President from 1990 – 1993.
He has held numerous other appointments in the Northern Territory including Deputy Chair of the Lands Acquisition Tribunal (1983 – 1995), Chair of the Planning Appeals Committee (1984 – 1994), Lecturer at the then Northern Territory University (1985 – 1992), Member of the Legal Practitioners Complaints Committee (1990 – 1993) and Chair of the Community Living Areas Tribunal (1990 – 1998). He was an active member of the Australian Army Legal Corps and attained the rank of Lieutenant Colonel in 1990 when he was also awarded the Reserve Forces Decoration.