The Honourable Charles Edward Herbert AJ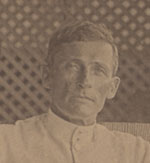 Charles Herbert served as an Acting Judge of the Supreme Court of the Northern Territory from 1921 to 1922.
He was born on 12 June 1860 at Strathalbyn in South Australia and was educated at the Collegiate School of St Peter in Adelaide.
He was admitted to the Supreme Court of South Australia in 1883 after being articled to his uncle, Henry Hay Mildred.
Charles Herbert moved to Darwin in October 1883 and was the only lawyer in the Northern Territory. His stint in Darwin was only short-lived and in 1884 he joined J J Beare's practice in Moonta.
He married Anna Emilia Augusta on 15 August 1885 and moved to Sydney to practice law in 1889.
After returning to Darwin in 1896, he was elected on 20 October 1900 as the Conservative Member for the Northern Territory, a position he was re-elected to in 1902.
In 1905 he was appointed as the Northern Territory Government Resident and Judge of the Northern Territory from September 1906 served on the Royal Commission on the Territory of Papua. He was appointed as the Deputy Chief Judicial Officer for the Territory of Papua in 1910.
Charles Herbert was appointed as the Administrator of Norfolk Island in 1928 and died on 21 January 1929. He is buried on Norfolk Island.