The Honourable James Archibald Douglas AJ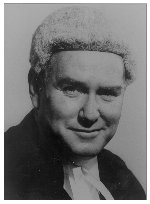 James Douglas served as Acting Justice of the Supreme Court of the Northern Territory from 1956 to 1957.
Justice Douglas was admitted to the Bar in 1946 and appointed as a Queen's Counsel in 1960.
Justice Douglas was President of the Bar Association of Queensland from 1963 to 1964, a member of the Executive of the Law Council of Australia from 1963 to 1964 and Vice President of the Australian Bar Association in 1964.
Justice Douglas was appointed as a Judge of the Supreme Court of Queensland from 1965 to 1984. He was a Member of the Board of Faculty of Law at the University of Queensland from 1968 to 1974, Chairman of the Central Sugar Cane Prices Board from 1972 to 1984 and Chairman of the Advisory Board of the Mt Olivet Hospital for the Incurably Sick and Dying from 1967 to 1984.
Justice Douglas was awarded the Knight of Honour and Devotion foreign Military Order of Malta in 1975.