Acting Justice Leslie Trevor Olsson AO MBE RFD ED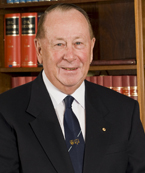 Trevor Olsson was appointed as an acting Judge of the Supreme Court of the Northern Territory in 2004, retiring in 2014.
Justice Olsson was a Judge of the Supreme Court of South Australia from 1984 – 2001 and is currently an Auxillary Judge of that Court.
Before being appointed to the Supreme Court bench, Justice Olsson was President of the Industrial Court & Commission of South Australia from 1975 – 1984, Deputy President of that Court from 1969 – 1974, Senior Deputy Master of the Supreme Court from 1966 – 1969 and Deputy Master from 1963 – 1966.
Justice Olsson was admitted as a Barrister and Solicitor in 1953.
Justice Olsson has held numerous appointments over the years including President of the Australian Institute of Judicial Administration from 1994 – 1997, Chairman of the Teachers Salaries Board of South Australia from 1969 – 1984 and Chairman of the Childhood Services Council from 1974 – 1981.
Justice Olsson recently was a Member of the Board of Inquiry into the Anglican Church within the diocese of Adelaide.
Justice Olsson was awarded as a Member of the Order of the British Empire in 1962 and an Officer of the Order of Australia in 2003.