The Honourable Sir Albert Edward Woodward OBE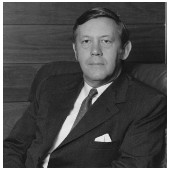 Edward Woodward served as an additional Justice of the Supreme Court of the Northern Territory from 1972 - 1979.
Justice Woodward graduated with a Master of Laws from Melbourne University and was called to the Bar in 1951.
Justice Woodward was appointed as a Queen's Counsel in 1965 and was a Member of the Victorian Bar Council from 1969 - 1972.
Justice Woodward was Chairman of the Victorian Dried Fruits Board from 1963 - 1972, Chairman of the National Stevedoring Industry Conference from 1965 - 1970 and Chairman of the Stevedoring Industry Council from 1970 - 1972. Justice Woodward was also Chairman of the Armed Services Pay Inquiry in 1972 and Aboriginal Land Rights Commissioner from 1973 - 1974.
Justice Woodward was a member of the Council of the Melbourne University from 1973 - 1976 and President of the Victorian Association of Youth Clubs from 1966 - 1976.
Justice Woodward was President of the Trade Practices Tribunal from 1974 - 1976 and appointed as a Justice of the Federal Court of Australian in 1977.
Justice Woodward was made a Knight Bachelor in 1982 and an Officer of the Order of the British Empire in 1969.
Photo courtesy of Federal Court of Australia.