The Honourable William Henry Sharwood AJ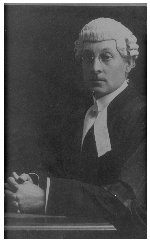 William Sharwood served as an Acting Judge of the Supreme Court of the Northern Territory in 1922 and from 1932 to 1933.
He was born on 29 December 1872 at Ballarat in Victoria and was educated at the Ballarat State School and Ballarat School of Mines.
He was employed by the Crown Law Department in Melbourne in 1889 and married Emily Brown on 14 January 1896.
After transferring to the Commonwealth Crown Solicitor's Office in 1905 as Chief Clerk, he studied law part-time at the University of Melbourne.
He was admitted to practice as a Barrister of the High Court of Australia in September 1916.
He was appointed as Assistant Commonwealth Crown Solicitor in 1917 and Crown Solicitor in May 1927.
William Sharwood retired in 1936 and died on 8 November 1944 at Richmond, Victoria.