The Honourable Kevin Frederick O'Leary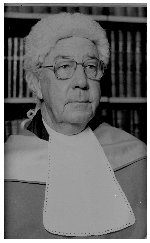 Kevin O'Leary served as an Acting Justice of the Supreme Court of the Northern Territory from 1982 to 1983, as resident Justice from 1983 to 1985 and in 1985 was appointed as the Northern Territory's second Chief Justice, a position he held until 1987.
Justice O'Leary graduated from the Sydney University with an Honours Degree in Law. He was admitted to practice as a solicitor in 1949. Before that he served in the Australian Imperial Forces from 1940 to 1942 and the Royal Australian Air Force from 1942 to 1945.
Justice O'Leary was admitted to the Bar in 1957 and was Vice President of the Law Society of the Australian Capital Territory from 1965 to 1967 and President from 1967 to 1970.
Justice O'Leary was a member of the Executive of the Law Council of Australia from 1969 to 1976, was its Vice President from 1972 to 1974 and its President from 1974 to 1976.
Justice O'Leary was appointed as Acting Judge of the National Court of Papua New Guinea in 1976 and was elected as Honorary Member of the American Bar Association the same year.
Justice O'Leary was the First Chairman of the Australian Legal Education Council from 1977 to 1981 and was the Founding Director of the Legal Workshop at the faculty of Law at the Australian National University from 1971 to 1982. He was also a lecturer in Practice and Procedure from 1971 to 1981 and a member of the Faculty of Law at the University from 1964 to 1982.