The Honourable Richard Charles Ward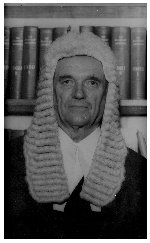 Richard Ward served as a Justice of the Supreme Court of the Northern Territory from 1974 to 1977.
Justice Ward was born in Kew, Melbourne on 28 July 1916 and attended the Victoria Street School and Melbourne High School. He attended the University of Melbourne and graduated with a Bachelor of Laws. After being admitted to practice in around 1938, he became a partner in the legal practice of Andrew Brough Newell in Darwin.
In 1947 he was elected to the first Northern Territory Legislative Council but did not contest the seat during the second election in 1949. Justice Ward temporarily left the Northern Territory and went into partnership in Adelaide in the firm of Alderman Brazel and Clarke.
Justice Ward eventually returned to the Northern Territory in mid-1950's and became a senior partner in the firm of Ward, Keller and Rorrison.
Justice Ward was elected to the Northern Territory Legislative Council in 1956 and in 1966 was preselected for the Northern Territory federal seat, however he lost to the Country Party candidate Sam Calder. He then stood for and won the seat of Ludmilla in the Northern Territory Legislative Council which he held until his appointment to the Supreme Court in 1974.
At the time of his appointment to the Court, Justice Ward had been appointed a Queen's Counsel and had been the leader of the NT Bar for many years.
Justice Ward died in Sydney on 24 November 1977 after suffering a kidney collapse.