The Honourable Steven Ronald Bailey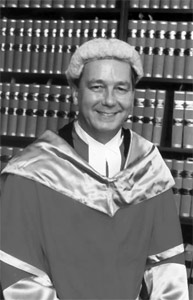 Steven Ronald Bailey served as a Justice of the Supreme Court of the Northern Territory from 1997 until 2004.
At the time of his appointment to the NT Bench he was a Judge of the District Court of Hong Kong having been appointed to that position in 1994.
Justice Bailey was Senior Crown Counsel in the Prosecutions Division of the Attorney-General's Department in Hong Kong from 1986 – 1992 and Senior Assistant Crown Prosecutor from 1992 – 1994.
Justice Bailey was the Director of the Executive and Policy Division of the Northern Territory Department of Law from 1981 – 1985 after being appointed as Legal Officer in 1978.
Justice Bailey was Chairman of the Northern Territory Parole Board from 2000 – 2004