Justice Peter Barr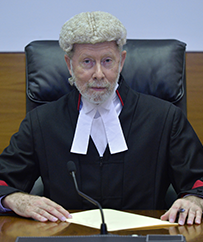 Peter Barr was appointed as a Judge of the Supreme Court of the Northern Territory in September 2010.
At the time of his appointment, Justice Barr was a member of the Northern Territory Bar Association, having been a barrister in Darwin since 1993.
Justice Barr was born and raised in New South Wales and attended the University of Sydney where he graduated with a Bachelor of Arts in 1974 and Bachelor of Laws in 1976. He was admitted to practice later that year.
Justice Barr relocated to Darwin in 1976 and commenced employment with Cridland and Bauer (now Cridlands MB) before entering private practice.
Justice Barr was appointed Queen's Counsel in 2004.