The Honourable Donald Arthur Roberts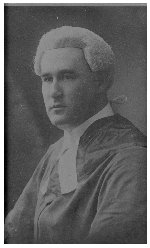 Donald Roberts served as the Judge of the Northern Territory Supreme Court from 1921 to 1928 and at 32 years of age, is the youngest person to have ever been appointed as a Judge of a Superior Court in Australia.
He was born on 26 May 1889 at Hindmarsh in South Australia and was educated at Campbelltown, Aldgate and Minlaton State Schools, Muirden Business College and Prince Alfred's College in South Australia.
He was articled to James Leslie Gordon and was admitted to the Supreme Court of South Australia in July 1912.
Donald Roberts then moved to Darwin and was admitted to practise as a solicitor in the Supreme Court of the Northern Territory on 15 November 1912. Upon his admission he worked with local solicitor John James Symes.
He served on the Darwin Town Council as the government's representative from 1915 to 1918 and married Ella Sicklemore on 11 April 1919.
Donald Roberts was appointed to the Supreme Court after his predecessor, Justice Bevan was removed from office.
He resigned on 8 April 1928 and moved to Mount Gambier where he died on 5 April 1958.