The Honourable Ross Ibbotson Dalton Mallam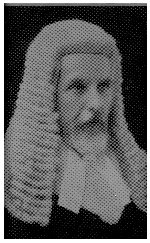 Ross Mallam served as a Judge of the Supreme Court of the Northern Territory from 1928 to 1933.
Ross Ibbotson Dalton Mallam was born in London on 1 June 1878, the son of a solicitor and was educated at St Pauls School.
He was admitted to practice in 1901 and emigrated .to Adelaide in 1902. With the imminent transfer of the Northern Territory to the Commonwealth, he moved to Darwin in 1910 and established his own practice.
As a solicitor, and after Judge Bevan's commission was revoked, he argued that the commission of Judge Gerald Hogan as a Deputy Judge was invalid and should be revoked. The High Court held that there could not be a valid appointment as Deputy Judge while no-one held the office of Judge of the Supreme Court.
Trial by jury was abolished in the Northern Territory (apart from persons charged with murder) in 1921 and Mallam was a strong opponent of this. He was also opposed to the Northern Territory being divided into two separate territories in 1926.
Ross Mallam was appointed as a Judge of the Supreme Court of the Northern Territory on 24 April 1928 after the resignation of Judge Donald Arthur Roberts. Due to illness, he did not commence sitting as a Judge until 20 June 1928.
Justice Mallam was the first Judge to sit as theJudge of the Supreme Court of Northern Australia and of the Supreme Court of Central Australia after those Courts had become established in February 1927.
Justice Mallam's health deteriorated in 1931 and by mid-1932 he was forced to leave Darwin, necessitating the appointment of Acting Justice William Henry Sharwood. He eventually resigned in 1933 and moved to Melbourne.
Ross Mallam died on 26 May 1954.