Justice Jenny Blokland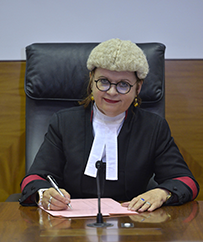 The Honourable Jenny May Blokland was appointed a Judge of the Supreme Court of the Northern Territory in April 2010.
Admitted as a Barrister and Solicitor of the High Court of Australia and the Supreme Court of the Northern Territory in 1981, Justice Blokland holds an LLB and a Masters Degree in Law from Adelaide University.
Her previous appointments and positions held include: Chief Magistrate and Magistrate of the Northern Territory Court of Summary Jurisdiction, Director of Legal Policy at the Northern Territory Department of Justice, Barrister at James Muirhead Chambers, General Counsel to the Director Of Public Prosecutions, Dean of the Faculty of Law at the Northern Territory University (now Charles Darwin University), Senior Lecturer at the Faculty of Law, NTU, Judicial Registrar of the Industrial Relations Court of Australia (part-time), Central Land Council nominee to the Community Living Areas Tribunal, occasional member of the Legal Practitioners Complaints Committee, and legal practitioner at the Australian Legal Aid Office and the North Australian Aboriginal Legal Service (now NAAJA).
Justice Blokland is currently national President of the Australasian Institute of Judicial Administration (AIJA), a council member of the Australian Judicial Officers Association, a former Council member of the Judicial Council on Cultural Diversity and a Fellow of the Australian Academy of Law.
Justice Blokland is co-author of the legal textbook: Criminal Laws, Northern Territory, with Stephen Gray, Ben Grimes and Julian Murphy, currently in its third edition as well as author of a number of journal articles and papers.
Justice Blokland is a continuing member of the judging panel of the Northern Territory Human Rights Awards.
She is also a life member of the Winston Churchill Memorial Trust and a former President and Life Member of the Criminal Lawyers Association of the Northern Territory. She is the Patron of Women Lawyers (NT).