Justice Jenny Blokland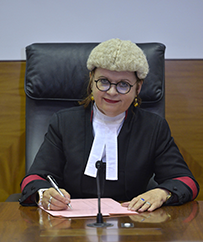 Jenny Blokland was appointed as a Judge of the Supreme Court of the Northern Territory in April 2010.
At the time of her appointment, Justice Blokland was the Chief Magistrate of the Northern Territory, having held that position since 2006. Prior to that, Justice Blokland had been a magistrate in the Northern Territory.
Justice Blokland holds a Bachelor and Masters degree in Laws and has 29 years experience as a legal practitioner.
Between 1981 and 1990, Justice Blokland was employed with the Northern Australian Aboriginal Legal Service and the Commonwealth Legal Aid Service in Darwin working principally in the areas of criminal and family law.
Justice Blokland worked as a lecturer and was appointed Dean at the Northern Territory University Faculty of Law. She was appointed Director of Policy at the Department of Justice and worked as general counsel with the Director of Public Prosecutions.