Justice Judith Kelly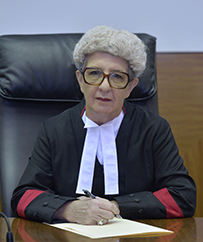 Judith Clair Kelly was appointed as a Judge of the Supreme Court of the Northern Territory in August 2009.
At the time of her appointment Justice Kelly was a Senior Counsel with William Forster Chambers.
Justice Kelly came to the Territory in 1977 and worked as a secondary school teacher at Batchelor Area School from 1977 to 1982. She completed her law degree in Brisbane in 1985 and was admitted to practise as a barrister in Queensland in February 1986 and as a legal practitioner in the Northern Territory on April 1, 1986. She began work for the Darwin office of Morris Fletcher & Cross, (later Philip & Mitaros, now Clayton Utz) where she became a partner.
As a solicitor Judith Kelly had a commercial litigation practise with a focus on banking and insolvency, insurance, construction and admiralty law.
After joining William Forster Chambers in 1996 she retained a commercial focus practising mainly in the areas of contract, partnership, building, property, tax and insolvency matters as well as some professional negligence, insurance, native title, administrative law, maritime, probate and family provision matters.
She was appointed as a Senior Counsel in 2008.