Justice Sonia Brownhill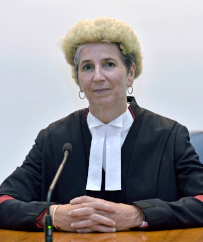 Sonia Lee Brownhill was appointed as a Judge of the Supreme Court of the Northern Territory in November 2020. At the time of her appointment, Justice Brownhill had held the position of Solicitor-General for the Northern Territory since July 2016.
Prior to her appointment as Solicitor-General, Justice Brownhill practised at the private bar as a member of William Forster Chambers and was appointed as Senior Counsel in 2015.
Before joining the private bar, Justice Brownhill held the position of Crown Counsel and had previously worked as a solicitor-advocate within the Solicitor-General's Chambers and as a solicitor within the Solicitor for the Northern Territory.
Justice Brownhill was first admitted to legal practise in Western Australia in 1995 after completing degrees in law and commerce at the University of Western Australia and articles of clerkship with Mallesons Stephen Jacques.
Justice Brownhill's other appointments have included Statutory Supervisor of the Northern Territory Legal Profession from 2016 to 2020, member of the Northern Territory Law Reform Commission from 2016 to 2020, sessional member of the NT Civil and Administrative Tribunal from 2015-2016, Vice President of the Northern Territory Bar Association from 2015-2016, Member of the Northern Territory Bar Council from 2011 to 2016 and member of the NT Council of Law Reporting from 2014 to 2016.