Chief Justice Michael Grant AO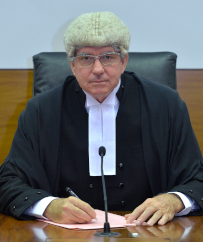 Michael Patrick Grant AO was appointed Chief Justice of the Supreme Court in July 2016. At the time of his appointment, Chief Justice Grant had held the position of Solicitor-General for the Northern Territory since September 2007. Prior to his appointment as Solicitor-General, Chief Justice Grant practised at the private bar as a member of William Forster Chambers and was appointed as one of Her Majesty's Counsel in 2006. Prior to joining the private bar he had worked as the Director of Litigation with the Northern Territory Attorney-General's Department and as a solicitor-advocate with the Solicitor for the Northern Territory (formerly Crown Solicitor's Office).
Chief Justice Grant also lectured in Torts and Taxation Law at the Charles Darwin University while practising as a solicitor. During that time he was also a special tutor for indigenous students undertaking legal studies in the Faculty of Aboriginal and Torres Strait Islander Studies.
Chief Justice Grant's other appointments have included Statutory Supervisor of the Northern Territory Legal Profession from 2007 to 2016, President of the Health Professional Review Tribunal (and the predecessor tribunal) from 2000 until 2008, member of the Executive of the Northern Territory Bar Association, member of the Legal Practitioners Admission Board and Bar Association representative on the Council of the Law Society. He was also an Inaugural Member of the Australian Rugby Union National Judicial Committee.
His Honour was made an an Officer of the Order of Australia (AO) in June 2021 for his distinguished service to the law and to the judiciary.