Justice Stephen Southwood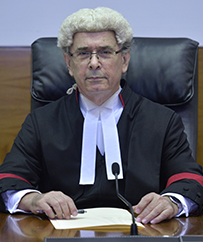 Stephen Roger Southwood was appointed as a Judge of the Supreme Court of the Northern Territory in 2005.
His Honour is Chairperson of the Parole Board of the Northern Territory and a fellow of the Australian Academy of Law.
At the time of his appointment Justice Southwood was a member of the Northern Territory Bar Association. Justice Southwood was appointed as a Queens Counsel in 2000.
Justice Southwood formed Myilly Point Chambers with Jon Tippet QC in July 2003 and became the first Northern Territory lawyer to be appointed as President of the Law Council of Australia in 2004.
Justice Southwood is a former President of the Law Society of the NT from 1997 – 1999.